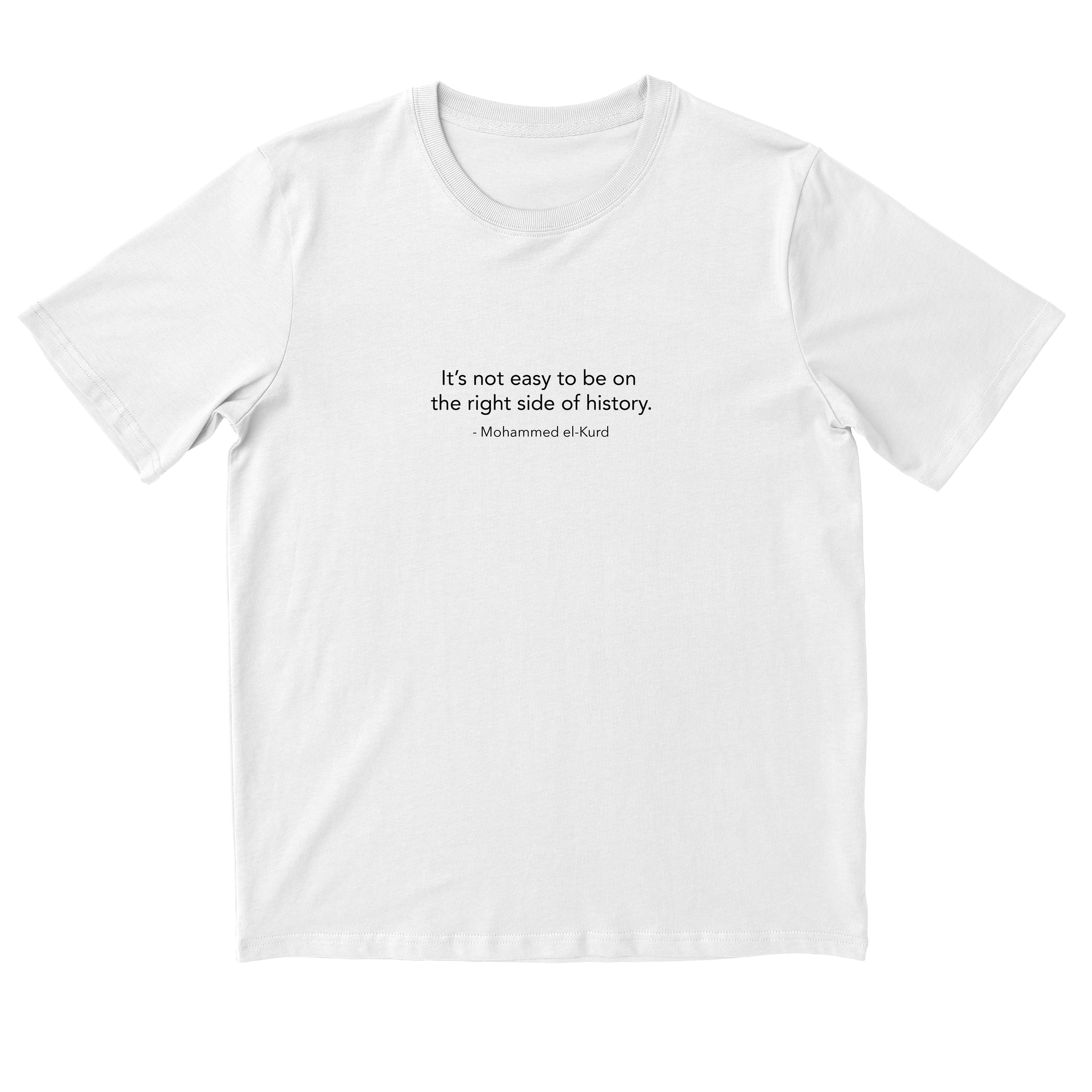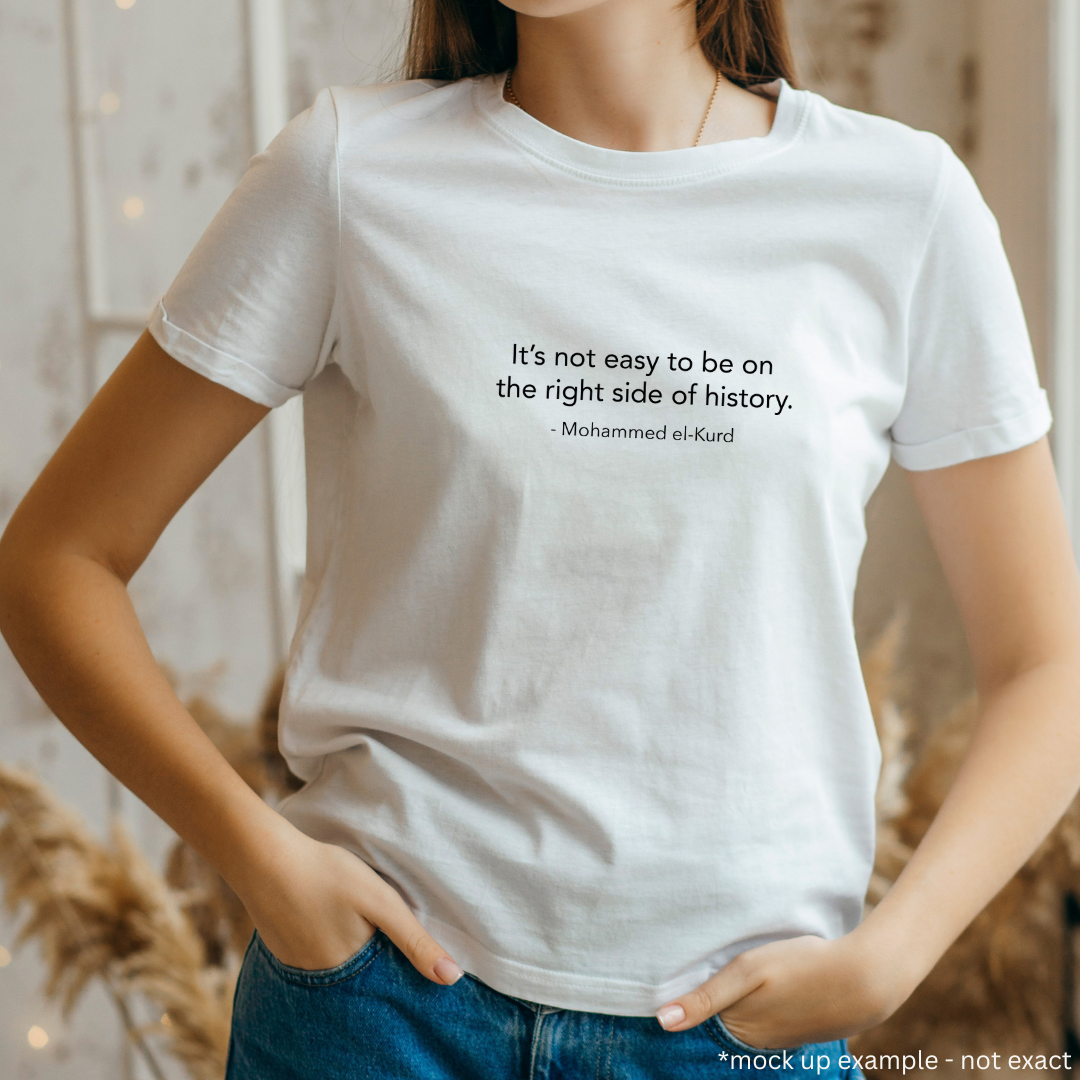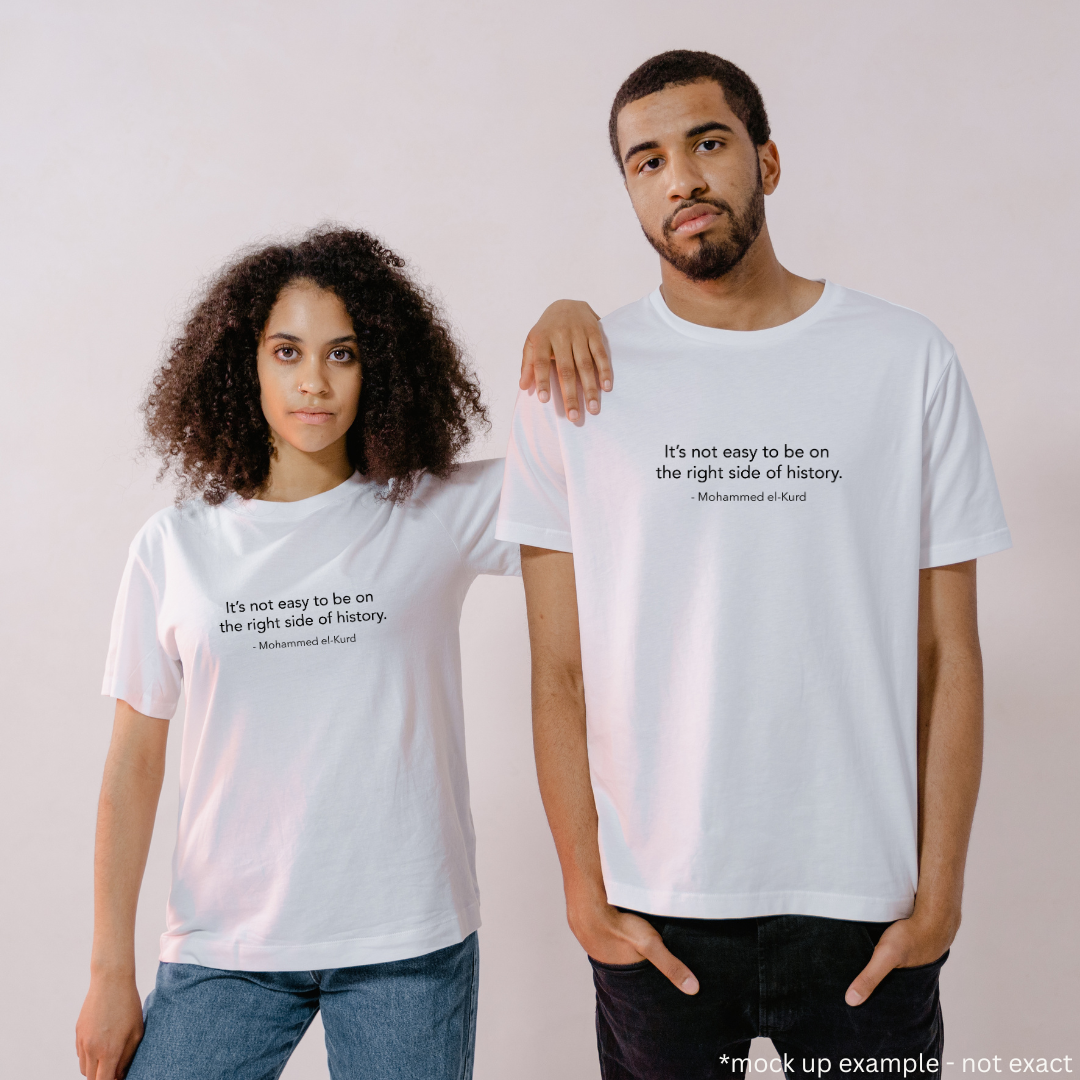 Free Palestine. End Violence. - Premium Relaxed Tee
Description
About Art x Activism
Delivery
Product Info & Care
"It's not easy to be on the right side of history." - Mohammed el-Kurd. 100% of the profits will go towards ending violence in Palestine and Israel.
This item will ship by 9th November 2023.
Art x Activism was founded in response to a feeling of helplessness towards being able to incite positive change in the world. Art x Activism sells art prints and apparel to raise money to donate 100% of the profits to charitable organisations that are working tirelessly to make the world a better place.
This t-shirt is created and printed via Everpress via 21 day pre-order campaigns.
Orders are printed and shipped when the campaign ends and are mailed first-class. Each campaign needs to reach it's minimum sales in order to be successful.
NOTE: if you order garments from multiple campaigns they will be printed & shipped separately. Delivery charges are calculated separately for each campaign and added to your shopping bag.
Available in a regular fit, our PREMIUM RELAXED T-shirt is made from 100% heavyweight organic cotton. Like most of our styles, this T-shirt is Fair Wear, OEKO-TEX®, Vegan, GOTS approved and 220 gsm.
Love your garment and it will love you back. Being gentle is easy and better for the planet, it also protects the print and helps maintain shape and colour for longer.

> Wash garment inside out
> Only wash your garment on a cold cycle
> Do not tumble dry (it's the worst)
> Iron your garment inside out
Free Palestine. End Violence. - Premium Relaxed Tee
NOTE FROM THE ARTIST
FREE PALESTINE. END VIOLENCE.

"IT'S NOT EASY BEING ON THE RIGHT SIDE OF HISTORY."
- Mohammed el-Kurd

100% of the profits will go to towards ending violence in Palestine and Israel.

50% will be donated to Jewish Voice For Peace - https://www.jewishvoiceforpeace.org/

ABOUT JVP - "Jewish Voice for Peace is the largest progressive Jewish anti-Zionist organization in the world. We're organizing a grassroots, multiracial, cross-class, intergenerational movement of U.S. Jews into solidarity with the Palestinian freedom struggle, guided by a vision of justice, equality, and dignity for all people."

50% will be donated to Medical Aid For Palestinians - https://www.map.org.uk/

ABOUT MAP - "Medical Aid for Palestinians (MAP) works in partnership with Palestinian communities to uphold their rights to health and dignity. We do this by developing effective, sustainable and locally-led healthcare services, providing medical aid during emergencies, and campaigning to break down the barriers to Palestinian health and healthcare today and for the future."

About the design - This quote by Palestinian poet, journalist and activist Mohammed el-Kurd was taken from his interview with Novara Media in May 2023, discussing the Israeli Apartheid Regime in Palestine. - https://open.spotify.com/episode/1buEOe6DyXYaEaKx6hy7E6?si=521bdf9ab03e40a6

- https://novaramedia.com/2023/04/30/how-the-media-lies-about-palestine-ash-meets-mohammed-el-kurd/

Further Information

Amnesty International: Israel's Apartheid Against Palestinians - https://www.amnesty.org/en/latest/campaigns/2022/02/israels-system-of-apartheid/

United Nations: The Legality Of The Israeli Occupation Of The Occupied Palestinian Territory, Including East Jerusalem - https://www.un.org/unispal/ https://online.flippingbook.com/view/843221727/29/
- Art x Activism